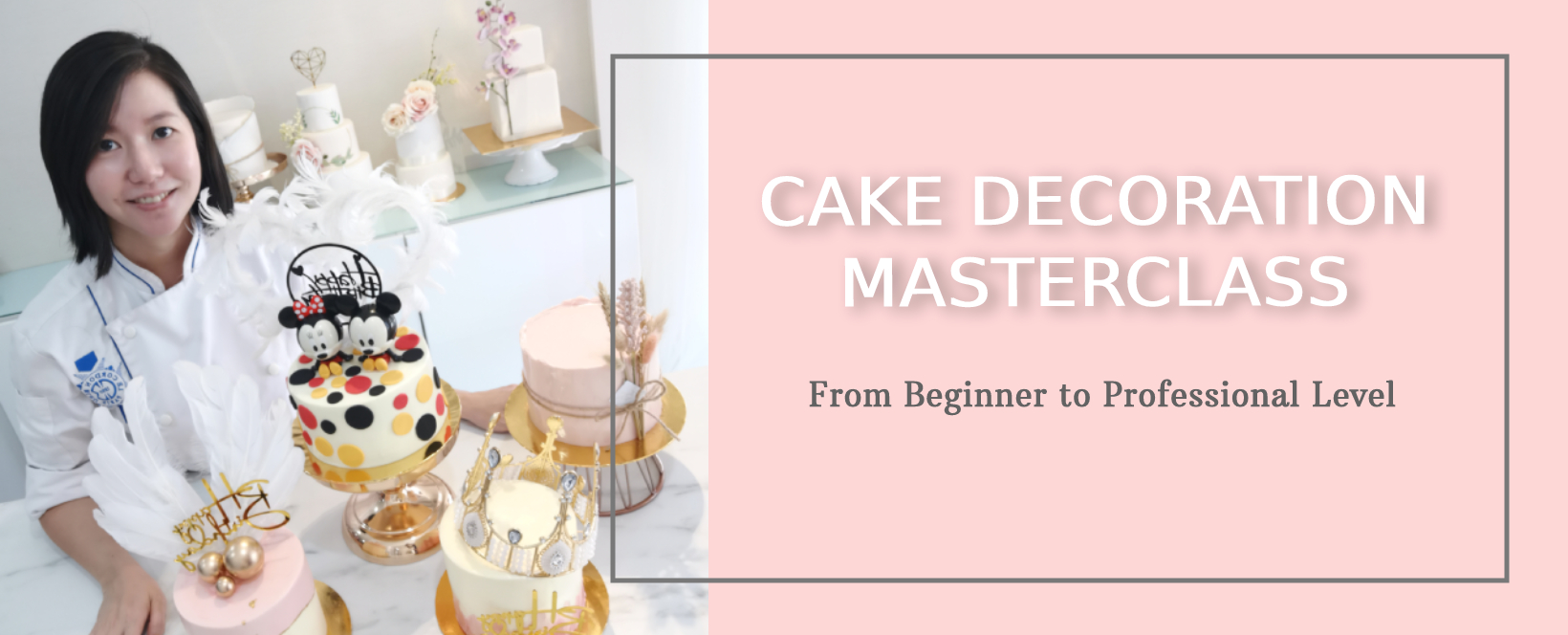 This Cake Decoration Masterclass has been designed to introduce the latest modern concepts of cake decorating, design, and preparation, alongside an insight into fundamental business acumen. There is an additional option to choose business mentorship from an award-winning and certified business mentor, Alan Mak Tin Loon for students looking to launch their business venture in this massive food industry.*
In these cake decorating classes, Chef Wendy will lead a combination of practical sessions, demonstrations, and lectures to impart her knowledge, drawing from years of industry experience to provide you with cake-making skills and techniques that have been successfully implemented in the professional environment.
The creative element of the course coupled with key business acumen help to develop an entrepreneurial attitude in participants.
If you are interested in taking your cake baking skills to the next level and learning how to make cakes that not only taste great, but also look great, then the cake decorating course is perfect for you.
Key information
Duration: 12 weeks | 20 sessions
Price: RM8288 (RM300 discount for first 20 students)
Included in the fees: Ingredients, dedicated manual, essential tools and apron.
Intake: Year 2021 intake | 6th July 2021 / 5th October 2021
Date: Weekday - Tuesday & Wednesday
Time: 10am - 2pm
Venue: Six Elements, 82, Jalan Masjid Negeri, 11600 Georgetown. Penang, Malaysia
Entry Requirements: No prior culinary experience is required but good to have some basic baking experience.**
Class structure:
Small class of 12 students, full compliance to COVID19 SOP.
100% focus on practical training.
Conducive environment for learning and socialising.
High teacher-to-student ratio, to provide meticulous supervision.
Prerequisite:
Experience in handling kitchenware
Not afraid of heat
Recommended to have basic baking knowledge, however not a must
Optional: Students who successfully completed the Cake Decoration Masterclass program will be given the option to advance training by business coaching for the duration of 6 months with an additional fee of RM8688 with ROI*** Guarantee.
Course content
In this Cake Decoration Masterclass program, you will learn decoration, design and production by focusing on:
Celebration cakes
Wedding cake assembly
Stacked and shaped cakes
Cupcakes
Cakesicles
Making bombshell/ knock knock cake with chocolate
Filling, coating and masking cakes
Fondant and gum paste figurines and flower
Chocolate decoration
Modern decoration techniques
Piping border and buttercream flowers
Korean style cakes
Designing cakes with palate knife using buttercream
Exploring other mediums as cake decoration
As a participant of Avalynn Academy's Cake Decoration Masterclass, you will be supplied with all the ingredients and equipment needed during each session, and everything you create is yours to take home at the end of the day.
Who is the program for?
We welcome students from a variety of different educational and occupational backgrounds. No prior culinary experience is required.
This program is suitable if:
You are a home-baker or entrepreneur and wish to master one of the most fundamental cake decoration techniques to set up your own cake decorating business.
You are a passionate baker and you want to learn the right techniques to elevate your cakes to the next level.
You are a school leaver looking to explore the world of gastronomy and culinary arts as a future career option.
You are in a job and looking to enhance your skillset or hobby further or even contemplating a career change.
You are a home-maker looking to fill your spare time by unleashing your baking and decorating skills.
You are a retiree seeking to learn new and fun activities while enhancing your portfolio of experiences in life.
You wish to find a new lifestyle interest that would give you a more balanced work-life or work-family well-being.
Learning Outcomes
Upon completion of this course each student will be able to:
Demonstrate decorating cakes with buttercream icing, chocolate ganache and whipping cream.
Plan and build multiple tier or shaped cakes.
Understand the various characteristics of icings and buttercreams and their method of preparation and production.
Competently complete the masking and icing cakes.
Complete basic piped borders, flowers, and writing.
Confidently cover cakes with fondant.
Demonstrate crafting of 2d/3d figurines and flowers using fondant or gum paste.
Be able to practice food safety.
Be able to create various chocolate decorations.
Be able to troubleshoot cake structurere/icing issues.
Internship
Opportunity to be in our internship program. It has been designed to provide you with the experience of working in a professional kitchen as part of your cake decoration training. You will be connected with one of our highly regarded industry partners who will be able to facilitate a structured placement, leading to a practical understanding of business and a variety of alternative aspects of kitchen operations.
Why choose us?
If you're looking for the best, look no further! Affordable premium education and skill development.
100% deep practical training.
Using only the top quality products and ingredients (no endless searching of thousands of online recipes and videos to find the right mix).
International standard content and delivery method for course undertakings.
Highly trained tutors (top Prestigious Culinary Academy and a team of highly experienced chefs from Top Hotels and Restaurants). Headed by Masterchef Wendy who hail from London's Le Cordon Bleu.
Full support of material sourcing and business set-up.
Support system by Avalynn Academy for consultancy of cake decoration and entrepreneurship.
Becoming part of Avalynn Academy community to gain access to more baking and cake decoration courses.
Finance
Buy now, pay later. 0% interest 3-24 months installment plan (from RM346 / month) are available with selected banks in Malaysia (credit card).
Or 3 X installments of RM2763 / month.
Got more question? Chat with us now!
*estimated spending in Asia for food industry to grow from US$4 trillion to $8 trillion by 2030 by PWC and an addition of another 250 million people in the region.
**subject to successful interview selection process.
***Return of Investment.